Colin Hay Live at Johnson Hall!
April 9, 2024 @ 7:30 pm

-

9:00 pm

|

$65.00
Come see Colin Hay Live at Johnson Hall on Tuesday, April 9, 2024!
COLIN HAY – Now And The Evermore
"I'm deeply grateful for the life I have," says Colin Hay, "and I think my natural tendency has always been towards optimism and humor. Lately, though, I've had to be more intentional about it. I've had to actively seek out the positive, to let new rays of hope shine on some seemingly dark situations."
That's precisely what Hay does with his extraordinary new solo album, Now And The Evermore, facing down struggle, loss, and even his own mortality with grit and wit at every turn. Written and recorded in Hay's adopted hometown of Los Angeles, the collection is a defiantly joyful celebration of life and love, one that insists on finding silver linings and reasons to smile. That's not to say the record deludes itself about the realities of our modern world, but rather that it consistently chooses to respond to pain with beauty and doubt with wonder.
The music on Now And The Evermore (Lazy Eye/Compass Records) is vibrant and animated, brimming with fanciful melodies, lush orchestration, and even a guest appearance from Ringo Starr, who kicks the whole thing off with a signature drum fill. Hay's performances are likewise buoyant and full of life, drawing on vintage pop charm, pub rock muscle, and folk sincerity to forge a sound that's at once playful and profound, clever and compassionate, whimsical and earnest. At its most basic level, Now And The Evermore offers a deeply personal acknowledgement of the relentless march of time, but zoom out and you'll see that Hay's contemplations of identity and eternity are in fact broader reflections on our shared humanity, on letting go of dead weight and reaching for the light no matter how dark things may get.
"It's a troubling and confounding and ever-inspiring world that we live in," he muses. "I'm lucky to be able to wander downstairs and try to make some sense of it, at least to myself."
Born in Scotland, Hay moved with his family as a teenager to Australia, where he first came to international fame with seminal '80s hitmakers Men At Work. While the band would reach the heights of stardom—they took home a GRAMMY Award for Best New Artist and sold more than 30 million records worldwide on the strength of #1 singles like "Who Can It Be Now?" and "Down Under"—by 1985, they'd called it quits and gone their separate ways. Hay released his solo debut the following year and, over the course of the next three-and-a-half decades, went on to record twelve more critically acclaimed studio albums that would help establish him as one of his generation's most hardworking and reliable craftsmen. Rolling Stone praised his "witty, hooky pop" tunes, while NPR's World Café lauded his "distinctive voice," and late night hosts from David Letterman and Craig Ferguson to Jimmy Fallon and Jimmy Kimmel have all welcomed him for performances.
Over the course of his remarkable solo career, Hay developed a reputation as a gifted raconteur with serious comedy chops, and his frequent appearances at LA's Largo club helped garner him a legion of fans in the entertainment world. Among them was actor/director Zach Braff, who called Hay's mix of heartfelt songwriting and hilarious storytelling "one of the most amazing things I had ever seen." Braff would go on to feature Hay's music prominently in the GRAMMY-winning soundtrack for Garden State and invite him to appear as himself on the hit series Scrubs, which helped introduce his music to a whole new generation of listeners.
On top of his rigorous schedule as a solo artist, Hay has also managed to tour the world several times over with Ringo Starr & His All–Star Band, release an audiobook of Aesop's Fables, star in the award-winning documentary Waiting For My Real Life, and even provide the voice for Fergus Flamingo in Disney's The Wild.
"When the pandemic hit, I was forced to stay put for the first time in years," Hay recalls. "It was horrendous every day to watch the news and see so many people struggling, but even so, musical ideas were creeping into my head, so I followed where they led and embraced the freedom that came with sitting still for a change."
With no tour dates on the horizon, Hay allowed himself to slow things down and work at a different pace than he was used to. For the first time in his career, he had several uninterrupted months to work continuously with his longtime friend and collaborator Michael Georgiades, and the two began penning a series of gorgeous, thoughtful tracks that would eventually form the framework of Now And The Evermore.
"It seemed like we tapped into some kind of creative vein that just felt good," Hay explains. "Even when I thought we had enough material for a record, I just kept writing on my own because the songs kept presenting themselves to me."
Hay took his time in the studio, too, going in alone at first to record basic tracks and then building up the tunes up around his core vocal and guitar performances. While he enlisted a handful of collaborators—including Georgiades, Compass Records co–founder/bassist Garry West, Cuban guitarist/tres master San Miguel Perez, wife and singer/songwriter Cecilia Noël, and drummer Greg Bissonette (Ringo Starr, David Lee Roth)—Hay tackled the majority of the work on his own until it was time to bring in keyboardist and string arranger Fred Kron, who helped flesh out the music with sweeping orchestration, which was recorded and produced by West at the Compass studio in Nashville.
"Once we started to put the strings on it, that's when it felt like everything really came together," says Hay. "There started to be this sense of beauty and grandeur to the music, this sense of romance and possibility."
That romance and possibility lays at the heart of Now And The Evermore, which opens with the bittersweet title track. Lilting and jaunty, the song (which features Starr on drums) makes peace with life's transience, accepting the fate that ultimately awaits us all and committing to make the most of what little time we've got. "Goodbye to the life we knew / Don't save it till the end," Hay sings, balancing faith and fatalism in equal measure. "It could be me, it could be you / Or some old long lost friend."
"I think this pandemic made people recognize that we won't be around forever," he explains. "If there's something you want to say to someone, some love you want to express, then you should do it now because you never know when your number's up."
Learning to live in the present is a recurring theme on the album. The sunny "Love Is Everywhere" mixes rootsy guitars and gospel harmonies as it reminds us that there's always joy and gratitude to be found if we're willing to seek it out, while the soaring "Into The Bright Lights" (written by Chris Trapper) waltzes its way to cinematic heights as it refuses to surrender to darkness and despair, and the playful "Sea Of Always" tips its cap to Roy Orbison and The Beatles as it casts away the trappings and distractions that all too often drag us down. "Sold my rings / Cut the strings / And said goodbye to sorrow," Hay sings. "Close my eyes as I fly / A different sky to follow."
"A lot of these songs involve different ways of thinking about the unknowable," he reflects. "I find solace in nature and I often reach for those sorts of metaphors—the sea, the sky, mountains, rivers—when I'm trying to wrap my head around it all."
Indeed, the unknowable looms large on the record. The loss of Hay's parents informs the mesmerizing "Starfish and Unicorns," which wrestles with the lingering pain and loneliness that comes with the end of a complicated relationship, as well as the Celtic-tinged "All I See Is You," which chases after a past it can never get back. The deceptively breezy melody of "Agatha Bell," meanwhile, disguises an eerie murder ballad that raises more questions than it answers, and the bright, punchy horns of "A Man Without A Name" wraps the never-ending search for self in an air of celebration. But it's perhaps the album closer "When Does The End Begin?" that confronts the unknowable most directly, with Hay singing, "We're following the rising moon / When darkness falls it will be none too soon / We're passing all the loved and lost / Don't want to look back and count the cost."
"I'm approaching 70 now," he explains, "and it's clear to me that I'm in the home stretch. I don't feel any fear or a resignation about it, though, just an urgency to say the things I need to say and do the things I need to do."
Who knows what happens when we die? Perhaps our consciousness lingers on long after we leave our bodies. Perhaps the curtains simply close and the show ends for good. Regardless, Now And The Evermore reminds us that we're all alive right here, right now. For Colin Hay, that's plenty to smile about.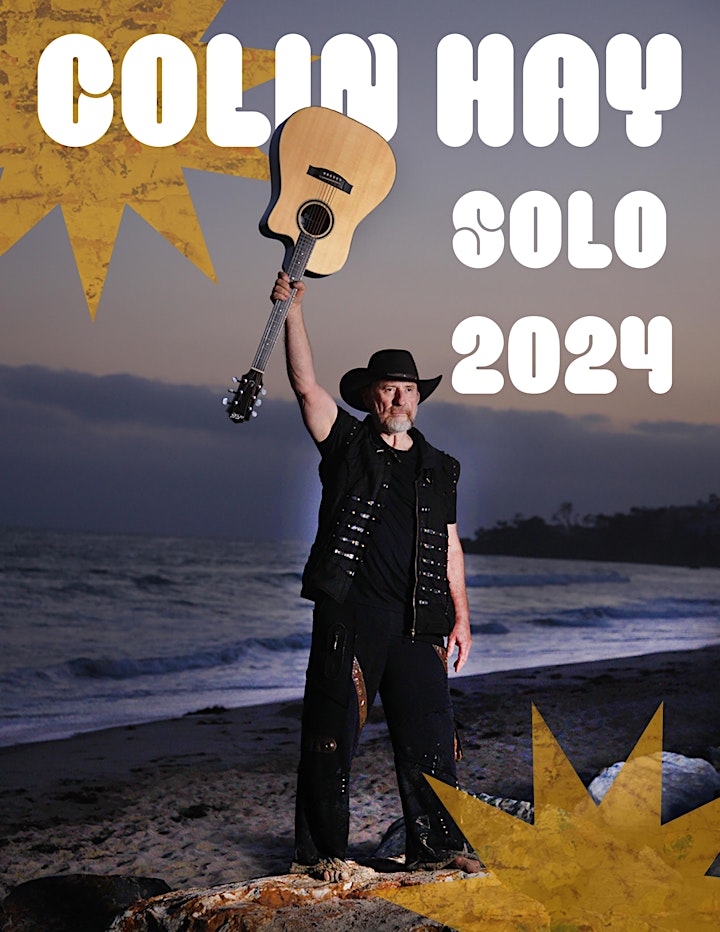 Share This Post, Choose Your Platform!